JESSIE HORN
– Strength Coach / Professional Personal Trainer
Certifications
ACE Certified Personal Trainer
B.S. Biology
CPR/AED certified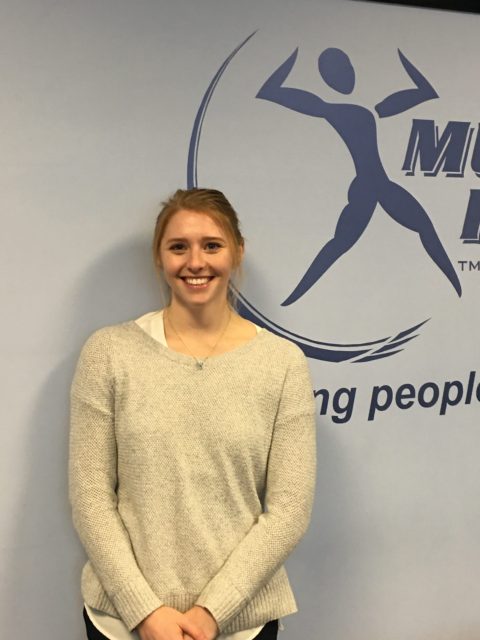 Interests: One of my favorite things to do is cook (and eat, of course)! I also enjoy hiking, yoga, and exploring new parks with my dog.
What attracted you to work at Muscles in Motion? I was so excited about working at Muscles in Motion initially because of all of the positive and inspiring results from the clients. I have never experienced a more welcoming environment than at this gym. It is clear to see how much the trainers care for the clients and how knowledgeable everyone who works here is. I always strive to learn from the best and I knew this was the perfect place for that. I love being able to work for a company that truly puts the client and their health and safety first.
What kind of contribution do you feel like you're making to people's health? I have a lot of previous experience in the medical field and with hospice. Working in those environments I have seen the adverse effects from a lack of strength training. Maintaining a regular routine of strength training is essential, especially as we age, in order to continue doing even the simplest day to day activities. Using the high intensity training model is an excellent way to push our bodies to their maximum potential. It feels great to know that I am helping clients live their lives to their fullest, and proving that age is just a number. Also, at this gym clients experience what their body is truly capable of and that provides motivation to continue a healthy lifestyle in and out of the gym.
What personal goal for the future do you want to share with us? In the future I would love to continue to learn more about nutrition and to educate others about it. I hope to hold cooking classes for my community and inspire others to be comfortable and confident with every meal. My goal is to create a safe and fun environment for people who are new to the gym so that everyone has an equal opportunity to feel the same passion for health and exercise that I do. I love the idea of bringing my community together and hosting different fitness events to engage people of all levels.