Portland Axe Throwing with Muscles in Motion
June 10, 2018 @ 3:00 pm

-

5:00 pm
SUNDAY JUNE 10th at 3pm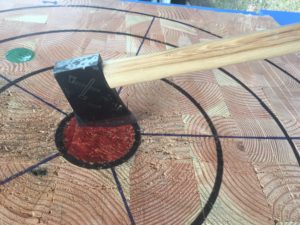 Portland Axe Throwing brings people of all kinds together. We believe that certain sports have a special ability to do that. Like archery axe throwing has a xen like quality to it when done right. Axe throwing is safer, and it can be learned quicker with our trainers who act as both teacher and lane marshal.
Start time- 3pm
Location- Muscles in Motion
Cost- TBD
No open toed shoes. We don't want anyone dropping an axe on their feet.
Everyone must sign a waiver to throw.
What to expect-
The first part of the session is for getting each participant to stick their axe.
Openthrowing
Get everyone warmed up for games.
Games-
Play a couple short games. Axe, cricket, 21…
Match play.
Play a game to establish the over all winner in a playoff bracket.
Award ceremony.
Winner of match play takes home a new axe to throw!